Purpose
Most people gamble in a controlled way as a form of leisure and entertainment. A small proportion gamble to excess - both through legal and illegal channels - and can be considered problem gamblers. This document describes the commitment of the Hong Kong Jockey Club to promoting responsible gambling practices among those who gamble and to minimising the negative effects of problem gambling. In this way the Club aims to provide socially responsible betting - a balance between meeting the demand for gambling and maximising the social and economic benefits of gambling for the community, while helping to minimise potential harm to the individual and the community.
Gambling in Hong Kong
The Hong Kong Government policy is to restrict gambling, other than social gambling, to a limited number of controlled authorised outlets. In this way, while the public demand for gambling is met, regulation ensures that gambling opportunities are not excessive and possible harm to the community is minimised. In accordance with this policy, the Jockey Club is authorised to operate pari-mutuel and fixed odds betting on horse racing and football betting, and the Mark Six lottery.

The Jockey Club is a not-for-profit organisation. Surplus funds are donated to charity and community agencies and projects, and the Club is, next to Government, Hong Kong's largest provider of charity funding. The Club pays betting duty to Government and is Hong Kong's largest single taxpayer. The Club is also one of Hong Kong's largest employers.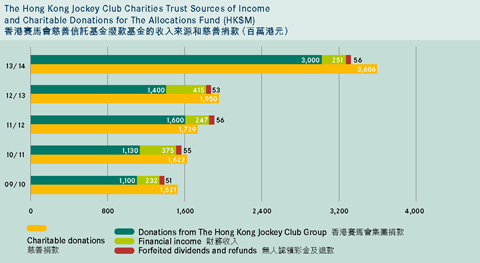 As well as authorised legal gambling, there is extensive illegal gambling in Hong Kong. Local illegal bookmakers and unauthorised offshore operators offer betting on Hong Kong and overseas races as well as the Mark Six lottery, and take bets on a wide range of overseas sporting events, especially European football matches. In 2001 the Hong Kong Government conservatively estimated annual turnover on illegal football betting to be approximately HK$20 billion. Two gambling surveys conducted in 2001 and 2005 found that some 4.2% and 2.1% respectively of Hong Kong's adult population had bet on football with a local illegal or unauthorised offshore bookmaker in the year preceding the surveys. Although the proportion of people betting with illegal bookies has decreased following the introduction of regulated football betting in late 2003, the scale of illegal gambling and its associated problems still deserve public attention.
Illegal gambling is a problem for two main reasons. First, in contrast to legal betting, illegal gambling operations do not pay tax in Hong Kong, and make no contribution to Hong Kong charities: instead they siphon money out of the community. Second, illegal gambling operations are widely associated with a range of social problems and criminal activities, in particular debt, loan-sharking, money laundering, fraud and corruption. A large proportion of those arrested by the police in connection with illegal bookmaking have triad connections. One important reason for offering regulated legal gambling is therefore to provide an alternative to, and so discourage, illegal gambling.
Problem gambling
Gambling for the great majority of people is an accepted and enjoyable form of entertainment. However, a small proportion do gamble to excess. A study commissioned by the Hong Kong Government Home Affairs Bureau in 200 5 showed that a small but not insignificant proportion of the population could be considered as probable pathological gamblers / problem gamblers.
The symptoms of problem gambling vary but typically include:
preoccupation with gambling
repeatedly trying but failing to quit or reduce gambling
chasing losses
gambling more than intended
guilt about gambling
lying about gambling and gambling losses
Problem gambling varies in severity, but frequently leads to the breakdown of family relationships; financial difficulties; work / job problems and job loss; legal problems; and a range of emotional disorders.
Experience in other countries suggests that problem gambling is most frequently associated with high intensity forms of gambling where continuous play and rapid, repeated staking are possible. The clearest examples are electronic gaming machines and casino table games where, in some cases, access is possible 7 days a week, 24 hours a day. Problem gambling also tends to be more associated with forms of gambling where credit is available. Problem gambling can, however, arise with any form of gambling, including mahjong houses, sports betting and betting on horse races.
The Gambling Review Consultation Paper, issued by the Home Affairs Bureau in 2001, refers to those who patronise illegal or unauthorised bookmakers as more prone to problem gambling because of the variety of games, lack of time limits, active promotion and availability of credit and easy loans.
Underage gambling
There is also wide public concern about underage gambling.
The HAB commissioned study in 2001 showed that, of underage respondents, just over half had gambled in various forms in the previous year. (This involvement covered most forms of gambling, in particular social gambling, buying Mark Six tickets, betting on horse racing or football and use of online casinos.)
High though this rate is, it is important to recognise that underage gambling is a global problem. Studies in other countries typically show that some 40-70% of high-school students report having gambled for money in the previous year. (Again, this involvement covers all forms of gambling including social gambling, lotteries, betting on sports, bingo and casino games).
There is also evidence, both in other countries and in Hong Kong, that the involvement of young people in 'commercial' forms of gambling usually follows earlier involvement in 'social' gambling with friends and relatives. The underaged also frequently report that they gamble with the knowledge, sometimes with the support, of parents, relatives and friends. Indeed, in the HAB commissioned study, for those underaged who had bought Mark Six tickets or bet on horse racing, though some had done so through betting branches, the majority said they had done so through family members and friends.
As with problem gambling, there is a strong association between underage gambling and illegal gambling. The Gambling Review Consultation Paper refers to underage persons being vulnerable to the attractions of illegal and unauthorised bookmakers as they are not subject to any control.
The Hong Kong model of regulated gambling
Hong Kong has, consistent with government gambling policy, a unique model of regulated gambling: not-for-profit with surplus to charity; high integrity; strict regulation; limited outlets; access controls; no credit betting.
The Club considers maintaining the integrity of racing and betting - through strict regulation and control - of fundamental importance in protecting the interests and upholding the confidence of customers. In addition, these inherent features of the Hong Kong model of regulated gambling, while not eliminating problem or underage gambling, help to minimise it.
Not-for-profit operation
Commercial gambling operations are typically under pressure from shareholders and other investors to maximise turnover. Illegal gambling operations are also under pressure to maintain gambling levels and provide funding for other criminal activities.
The Jockey Club is a not-for-profit operator, governed by Stewards who work on a voluntary basis, and is Hong Kong's largest community benefactor. It does not have investors to satisfy. The Club's not-for-profit and community support role helps ensure that it takes a socially responsible approach to the provision of gambling, balancing the demand against the wider needs and concerns of the community.
Limited gambling opportunities
Problem gambling in other countries is most commonly associated with forms of gambling that are easily accessed and where continuous play and rapid, repeated staking are possible, in particular electronic gaming machines and casino table games. In contrast, the opportunity to gamble (legally) in Hong Kong is limited by the number of racedays and Mark Six draws, or by the number of football matches on which betting is offered.
Access controls (1)
The underaged are particularly prone to problem gambling. Illegal operators impose no age restrictions on who can place bets or gamble. Offshore operators often stipulate a minimum age, but in practice have no way of verifying this information other than through requiring a credit card number. In Hong Kong, as in many jurisdictions, gambling is restricted to those aged 18 and above. The Club enforces this restriction through physical access controls and through ID checks as part of account opening procedures.
Access controls (2)
Many unauthorised offshore gambling operations use the Internet to promote their services, provide odds and process bets. In some jurisdictions, in particular Australia and the US, concerns have been expressed about the potential harmful effects of Internet gambling. Two major worries are, first, the risk that the underaged will be able to access gambling sites at home and, second, that those prone to excessive gambling will not be able to resist the temptation of having gambling available through a PC 24 hours a day. The Club offers an eWin, Web-based betting service, but with significant differences from most gambling sites. The Club's service is account-based and requires proof of age. Subsequent account access requires entry of an account number and a password. In addition, the Club sites provide access only to the Club's own betting and lottery services.
No credit betting
One of the main attractions of illegal gambling is the provision of credit and easy loans. This enables gamblers to gamble beyond their means and can make it difficult to set and stick to pre-defined limits. Credit in this way therefore makes possible gambling beyond what is affordable and can lead to excessive and problem gambling. In contrast, the Club's approach provides for cash betting and account-based betting, but no credit facilities or credit card betting. This ensures that customers of the Club are able to meet any betting losses and cannot accumulate debts with the Club.
Public Support
Following the release of the government consultation paper in 2001, there was extensive public debate on the advantages and disadvantages of regulating football betting.
As reflected in the subsequent government paper on authorising football betting, there was wide public support for the existing Hong Kong gambling regulatory regime.
Responsible Gambling Measures
In addition to the inherent features of the Hong Kong model of regulated gambling, the Club has implemented a number of measures and steps to promote responsible gambling practices among those who gamble, minimise the potential negative effects of gambling and minimise underage gambling.
Warning messages
Notices about age restrictions are posted at the entrances to all betting premises and on all betting windows, betting terminals and betting ticket dispensers. In addition, life-size, cut-out security guards are mounted at the entrance of all the Club's Off-Course Betting Branches to reinforce the message that entry is strictly prohibited to persons under 18.

Notices alerting customers to the dangers of excessive gambling, and suggesting guidelines for responsible gambling, are posted in all betting premises. Information leaflets are available at all customer service counters pointing out the signs and consequences of problem gambling.
Similar notices and messages are included on all Club betting websites and on Club betting marketing materials.
Warning messages about underage and problem gambling are being printed on betting tickets on a phased basis.
Treatment / counselling service information
Treatment and counselling service hotline information is included in all Club responsible gambling warning messages, on information leaflets and on Club betting websites.
Access controls
The Club continues to enforce access controls a) to stop the underaged entering betting premises, placing bets and collecting dividends and b) through account registration and account access measures, to stop the underaged accessing and placing bets through Club websites.
Staff training / briefing
All front-line betting staff undertake training covering the Club's Responsible Gambling Policy and the importance of effective implementation of the Policy through access controls and appropriate customer interaction (in particular how to respond to questions about problem gambling / problem gambling services). All new employees are briefed on the Club policy. Responsible gambling practices are frequently covered in employee communications, websites and newsletters. Refresher training and a staff vigilance campaign are used to help reinforce key messages.
Contribution to the Ping Wo Fund
Government, following publication of the Gambling Review Consultation Paper, announced its intention to provide public education, treatment and counselling services for problem gamblers. Government also announced the setting-up of a fund to provide preventive and remedial measures on problem gambling.
The Club also recognised the need for these services and in 2001 commissioned an independent study to look at how services for problem gamblers and their families might best be organised and offered. The Club's contributions to the Fund began in 2003 and the total commitment will reach a total of HK$145 million by 2013. The Fund supports:
research and studies on gambling-related issues and problems;
public education and other measures to prevent gambling-related problems;
counselling and treatment as well as other remedial services for problem and pathological gamblers, and those affected by them.
Government has appointed the Caritas AG Counselling Centre, the Tung Wah Group of Hospitals Even Centre, Zion Social Service - Yuk Lai Lin and HKLSS - Sunshine Lutheran Centre to provide problem gambling counselling and treatment services.
Effectiveness and Evaluation
The Club regularly monitors the effectiveness of the responsible gambling measures it has implemented. It does this through:
monitoring research and best practice in other jurisdictions;
monitoring customer / public reactions and responses to different measures and steps;
commissioning independent research to assess the implementation of Responsible Gambling Policy measures.
Responsible gambling measures are regularly reviewed and improved in the light of these research findings.
Community Support
The Club, through the Hong Kong model of regulated gambling, supports Government gambling policy, helping to combat illegal gambling by providing regulated and socially responsible betting. The Club also contributes, through this model and a series of additional measures, to promoting responsible gambling practices among those who gamble, minimising the negative effects of problem gambling and discouraging and preventing underage gambling. However, as overseas experience consistently shows, problem gambling and underage gambling are ingrained and enduring community problems. There are no quick fixes or instant solutions. The Club will continue to take all the steps it can to minimise these problems, but it cannot act alone. To be fully effective, support is needed from all sectors - Government, NGOs, the police, welfare agencies, schools, families - indeed from the community as a whole. Problem gambling and underage gambling are ongoing community problems requiring ongoing community action.