All for one and one for all – Fanling Rhenish Church Secondary School
10/01/2020
"All for one and one for all" is the motto of Fanling Rhenish Church Secondary School (FRCSS) girls' football team. There are no superstars – all play the game for the sheer love and passion of it. After years of playing in the HKJC N-League, they still play every match with smiles on their faces, even if the results are less than satisfactory. This shows their solidarity and exemplifies the true spirit of "happy football".
Solidarity
The FRCSS girls' team has played in the N-League since it was established in 2015; however until this season, they had never managed to achieve an outstanding result. Continuing to play with the spirit of "happy football", the team started out the season drawing once and losing three matches in the first four rounds, scoring only one point overall. The players kept the smiles and laughter coming, and did not focus too much on the results. It's no wonder, then, that when the team won the N-League Cup, the smiles and laughter just kept on coming.
Team Manager Mr. Wong Cho-kee and Coach Ng Chi-on (Uncle On) never feel upset about not winning – they simply try their best to offer a chance to the girls who love playing football. Wong says that it is great to have made achievements, but results have never been their primary goal. The most important thing is that the team can keep improving and the spirit of solidarity can be passed on. "We are just an ordinary team," he explained. "We don't have players who play on the District team or represent Hong Kong. In fact, most of the players take part in other extra-curricular activities. Since they can only get together for training once a week, we see playing a match as just another training session. Scoring one point in a drawn game is not easy, and results are not our team objective. Our players' abilities are not as good as the other teams, but our determination and teamwork give us the advantage. I hope they can continue to pass on this spirit."
Leaders may leave but their spirit lives on
After playing four seasons in N-League, key players like Bonnie Fung Yau-pik and Wong Shuk-yi quit the team to focus on their studies and pick up other sports. Even the team's captain, Mak Tsz-shan stepped down because of a cruciate ligament injury that happened two years ago. Now preparing to graduate, Tsz-shan expresses regret at having to give up football: "I had planned to play football throughout my years in secondary school. Even after being injured, I did try to play again but my knees could not handle it and I was forced to quit. It's definitely something I'll regret for the rest of my life." Although she can no longer play with her teammates, she still follows the game results and performances. Her advice to the girls is: "Winning or losing isn't everything. As long as they are not discouraged and maintain team spirit, progressing is the only way to honour themselves and their seniors!" Tsz-shan smiled as she reminisced on her happy memories in the N-League.
The life of a cross-border student
Many players are cross-border students who carry their schoolbags to and from Hong Kong and Shenzhen. Even though they spend a lot of time on transportation, they are still enthusiastic about football, and are willing to spend their effort on the team. Will the cultural differences between Hong Kong and Shenzhen affect the solidarity of the team? Mr. Wong says that the students have gotten used to the cross-border culture, and some of them have studied in Hong Kong since primary school and see no influence of cultural differences. Song Pui-yi, a Form 2 student, is one of them.
Pui-yi performs well in sports and can play many different positions, like goalkeeper and forward. She is a cross-border student so she has to spend a lot of time travelling to and from school. However, it has had no effect on her participation in training and in competitions, and has not created a divide between her and her teammates. "I felt quite shy when I first joined the school team and didn't talk much with the senior players. Then last year, we took part in the N-League Cup. Because there aren't many players on a side, we needed to discuss strategy before the game and communicate more during the game." Finally, the team won the Plate championship, proving that where a player comes from is not important; rather solidarity is the key to success.
Persistence pays off
Solidarity has always been the most powerful tool in the FRCSS girls' football team's arsenal. The team played well in the N-League Cup this season, defeating last year's champion Fung Kai No.1 Secondary School and winning the Cup – the highest-level trophy for FRCSS in recent years. Both students and teachers celebrated the victory together because it was their first major championship since joining the N-League five years ago, and it elevated Mr. Wong, and Uncle On to being championship-winning coaches. Uncle On said: "Teamwork and persistence are the keys to success. Also important is the player's passion for football; so that no matter winning or losing, they keep on enjoying every practice and game." Optimism always leads to a turn for the better, and even though the championship represents only a small reward for the FRCSS girls' football team, it has provided tremendous motivation to coaches and players. The FRCSS girls' football team will continue to uphold the spirit of "all for one and one for all" and keep on fighting in the N-League and in local inter-school competitions.
Others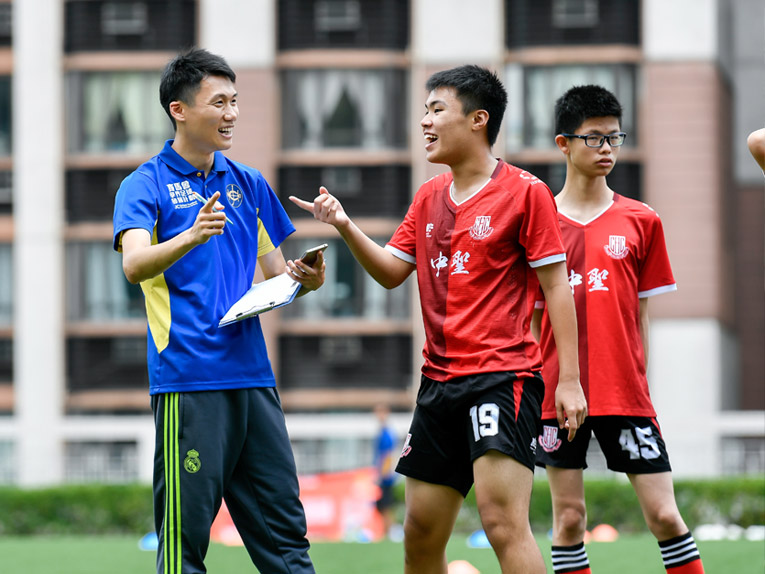 School Coaches
The JC School Football Development Scheme helps develop the potential of Hong Kong youth through football. The partnership with Manchester United enables teachers and coaches to receive professional training and experience MU's world-class training model.