Manchester United legendary player Andy Cole and parent coaches talk precious football moments with their children
16/05/2019
Andy Cole, who helped Manchester United scoop the Triple Crown in 1999, was one of the greatest forwards in the League with a record of 187 goals in Premier League, third-highest goal-scorer in the League history. Whilst he may be an intimidating striker, he is also a father who cherishes spending time with his children.
"I still remember the days when my children and I enjoyed football together," Cole reminisced, his smiling face radiating tenderness. During the Easter holidays, he made a whirlwind visit to Hong Kong to take part in the HKJC Pass It On – Parents Workshop and share his experiences with parents. Hong Kong parents are known for long working hours and often need to make many sacrifices in exchange for time spent with their children. Cole shared the same feeling: "Parents need to sacrifice a lot. We have to make our children happy. I enjoy supporting them to pursue their dreams."
Parent coaches and children enjoy the tournament
Local parents and Cole both agree that being able to enjoy football with their children is precious. In order to co-create happier memories with their children, some parents who participated in the HKJC Pass It On - Parents Workshop decided to take part in the Soccer 4 tournament held at the Riding High Together Festival during Easter. This gave them the chance to share more family love and joy with their children.
Cheung Ka-wa, one of the parents who took part in the tournament, said it was a special experience for him to coach his child, and winning the game under the watchful eye of Cole made the experience even more memorable: "All parents want to see their children growing up healthily and happily, and to be their partner along the journey.
Cheung Ho-yan, another parent who participated in the tournament with her son, said: "It was a fantastic experience. Although we came in fourth, we were very happy as we had gone from knowing nothing about football to being our children's leaders. The journey has been full of challenges." She revealed that now she and her son have more topics to share, thanks to the knowledge of football skills and theories that she had learned at the three workshops. Her son now finds that they have more in common when they talk about football.
Soccer 4 helps to create special memories
Both parents revealed that they would respect and support their children if one day they decide to pursue their football dreams. The most impressive experience gained from the HKJC Pass It On – Parents Workshop must be participating in the Soccer 4 tournament: "The children were looking forward to the match, which made me feel excited too. On the match day, I was very impressed by their efforts and strength in playing in one after another of the exciting matches until finally they made their way into the top four," said Cheung Ho-yan.
No matter where they are from or who they are, parents all share the same heart when it comes to their children. The parent coaches and Cole could not hide their joy and pride as they talked about the happy moments spent with their children on the field. Cole believes that children in Hong Kong can also become excellent professional players: "We [my son and I] played a lot when he was smaller. Now he plays for a professional team as a forward. So the parents in Hong Kong should also encourage their children, because they have a lot of possibilities."
Others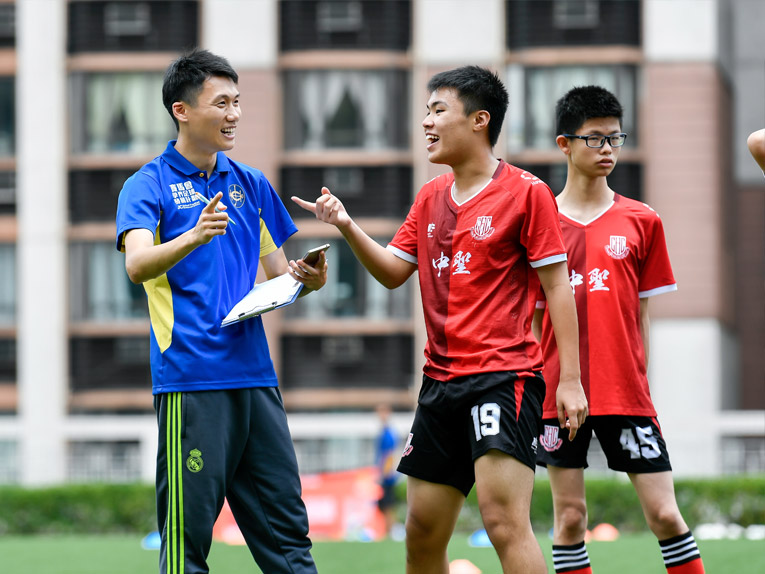 School Coaches
The JC School Football Development Scheme helps develop the potential of Hong Kong youth through football. The partnership with Manchester United enables teachers and coaches to receive professional training and experience MU's world-class training model.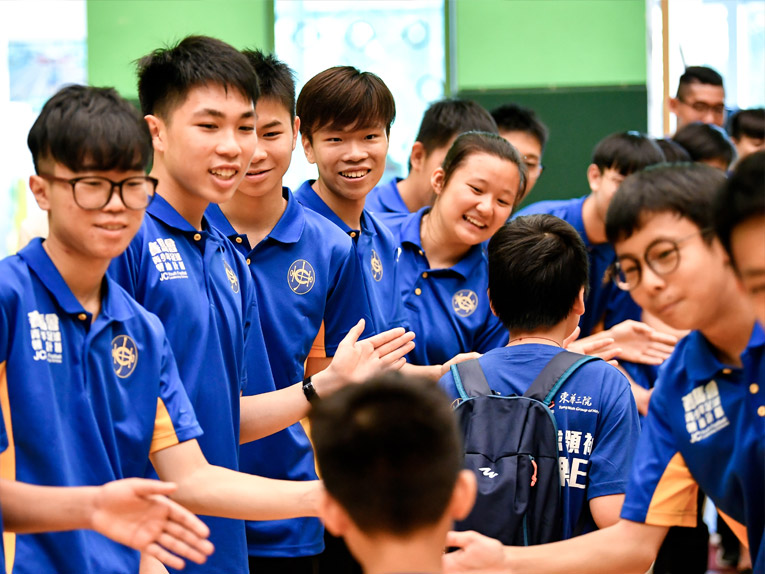 Young Football Leaders
This leadership and community service training programme for young people, the first of its kind in Hong Kong, demonstrates the Club's spirit of excellence by nurturing youth physically, mentally and socially