New young leaders prepare themselves to fly high
12/02/2020
This year, 46 young footballers who were selected from more than 120 applicants participated in the orientation camp of the 7th JC Young Football Leadership Scheme. On the first day, they took part in a variety of welcome activities at Wu Kai Sha; then on the second day, the young leaders enjoyed a surprise visit and show of support from Manchester United legend Park Ji-sung, who encouraged them to step out of their comfort zones and equip themselves for a future that is about to take off!
Alumni participation helps newcomers break the ice
The JC Youth Football Leadership Scheme has trained more than 250 young leaders over the past six years. Helping out at the camp this year and sharing their experiences with the new recruits were outstanding leaders from past years: King Tseng and William Lee (first year), Malik (second year), and Godfrey Cheng (fifth year). Not only did they help the participants break the ice in the warm-up activity, but they also joined them that night in playing the flyball activity. One of the participants, Amanpreet Singh, said: "It's very interesting to see the alumni cheering for every single thing we do, and it made my teammates and I try to do the same. This kind of behaviour helps our team grow closer, and we can build trust by encouraging each other."
"Sorry! I'm an undercover agent!"
To help the young leaders break the ice, Choi O (a leader from last year) and Choi Pak-nim (a leader from the 6th year) attended the camp seemingly as one of the participants. In fact, they were going undercover! By communicating and leading the team discussions, they helped the team members bond during the first day's ice breaking activity and Personality Dimension workshop. Team members proactively expressed their thoughts, and the atmosphere during the group discussions was lively. When they disclosed their undercover identity right before the camp was over, it made the new leaders cheer and laugh. Choi O said: "I thought it was interesting when I experienced the undercover arrangement at last year's camp, and I was happy to play this role this year." Choi Pak-nim described what an exciting and slightly nerve-wracking task it was: "I wanted to be a part of the team, but at the same time I felt guilty because I was tricking them. It was really exciting and I was happy to come back and join the scheme again by playing this role."
Park Ji-sung admits that he is not talented in water sports
On the second day of the orientation camp, Christopher O'Brien (OB), Hong Kong Head Coach of Manchester United Soccer Schools, prepared a range of interesting football activities for the participants. The presence of Park Ji-Sung surprised many of them. Windsurfing and dragon boating were introduced as the alternative sports challenges this year. Participants had to pick one and fulfill an objective in order to challenge themselves and enhance team spirit. Park Ji-sung revealed that he once tried windsurfing: "I took windsurfing when I was at university, but I wasn't good at water sports." He used his experience as an example to encourage the young leaders. "Do not be afraid to face challenges," he advised them. "In my university windsurfing class, I had to surf across the river successfully as part of the final examination. No matter if you succeed or fail, you should take it as a learning experience. Everyone here has been brave enough to step out of their comfort zones, and I hope that you can enjoy the process."
Quotable quotes for the new young leaders
One of the young leaders, Raymond Yeung, was selected to be an interpreter for Park Ji-Sung. It was so surreal, he said, adding: "I'm used to watching him play on TV, but now he is just standing next to me. I'm so lucky to be his interpreter and have this kind of close encounter with him. That's an unforgettable experience." When asked what Park was like, Raymond said: "He is very nice and what he says is very convincing. Maybe that's a characteristic of a natural born leader."
Marco Ngai Chun-tat is a fan of Manchester United and his mind went blank when he met his idol. "When I started to watch football, Park was playing at his peak for Man Utd. He was a hard-working player. I was so surprised to see him just standing in front of me." He added: "Park tells us that no matter what aspect we want to succeed in, we must first become a person of good character. To me, this is so impressive. I will always remember that we must be empathetic, and try to tackle challenges from different angles."
In addition to being tested by the self-challenges, the new young leaders will also take a basic football coaching class to learn how to design and organise football events. From this, they will come to know what it means to be a leader; and each will work on becoming a better person, so that together they can set a solid foundation for future community service activities.
Others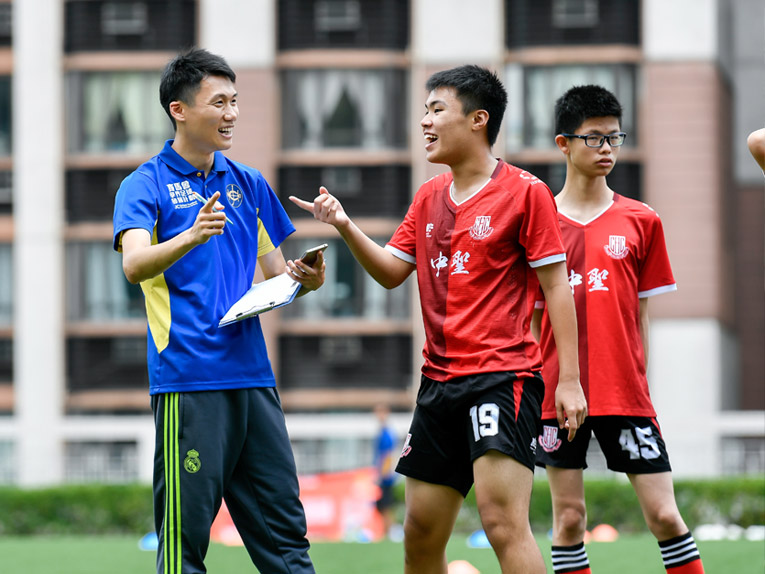 School Coaches
The JC School Football Development Scheme helps develop the potential of Hong Kong youth through football. The partnership with Manchester United enables teachers and coaches to receive professional training and experience MU's world-class training model.
Parents and District Coaches
The HKJC Pass It On - District Elite Coach Education Workshop and Parents Workshop are basic and professional football trainings designed to cater to different levels.