Learning leadership charisma from a comedian
13/06/2019
A successful leader requires charisma and exceptional communication skills before people will buy into their message. To enhance the communication skills of this year's Youth Football Leadership Scheme members, the Club invited Vivek Ashok Mahubani, one of the 2018 Ten Outstanding Young Persons, to be one of the star instructors. By sharing his tips for better communication, the Club hoped to help the youngsters discover a communication style that works best for them and develop their own unique leadership charisma.
Leaders should be part of the team
Vivek thinks that "leaders should be team players instead of simply ordering the members around and then standing behind them doing nothing. If you participate with them, they will be more willing to try what you're proposing and take up the challenge together."
When chatting with the young leaders, Vivek came to understand that the group of young people participating in this year's scheme had learned theory and practice classes over the past half year, and that they had hosted a football event for kids in the community. They also took up the challenge of either rope skipping or track cycling and were successful in their missions. Vivek attended the My Self Challenge Day and praised the students, saying: "I was there to see the students practising their rope skipping and cycling, and I really admired them. They courageously took up the challenge, and then applied what they had learned and gave back to the community. They should be very proud of themselves."
Understand yourself to know your position
As the ancient saying goes: "Know both yourself and your enemy, and you will always win." Vivek told the young leaders to understand themselves and find their own characters, so that they will always know where they stand. He explained that in order to be convincing, you need to speak the language of your audience. Human beings are curious animals. Because of this, we try to explore the world we live in as well as explore the unknown. Vivek said, "To arouse the curiosity of the audience, you have to understand their background and interests."
He revealed that as a star instructor, he had a certain amount of pressure, so that is why he did a lot of preparation. Knowing that many of the young leaders are ethnic minorities just like him, he used many of his own childhood experiences to encourage them. "I was discriminated against because of the color of my skin. But I was born and raised in Hong Kong, and so instead of feeling inferior or upset, I chose to use it in my comedy routines and bring out related social problems so that after the audience enjoys a laugh, they can reflect on the underlying messages afterward. In this way, I hope to make our world a little bit better."
Sharing with the students inspired them
Vivek's lively and interesting talk helped inspire the young leaders. After the class, the students had a chance to reflect on what they had learned. Wong Siu-tin, Sam said: "Communication is my weakness, yet in a very short time, Vivek was able to get the students to buy into what he was saying. He is very charismatic, and we wanted to hear more of his interesting stories, which made me feel really surprised."
Sam continued: "Vivek reminded us to get to really know ourselves so we would know where we stand, and I was inspired by that. I hope that I can find my own way of communicating with others."
Another young leader, Shifte, revealed that he had benefited a lot from Vivek's talk. Both Shifte and Vivek are ethnic minorities, so that resonated with him. "It really hit me when he shared his personal experiences. It made me understand that I'm not the only person to have experienced this, and that I should be more positive in facing these problems and failures. I am grateful for the strength he has given me."
After six months of hard work, the young leaders will attend a graduation ceremony on 29 June. Vivek thinks that the students should be proud of how they have improved. He said, "I hope they will enjoy the ceremony. I am so happy for them!"
Others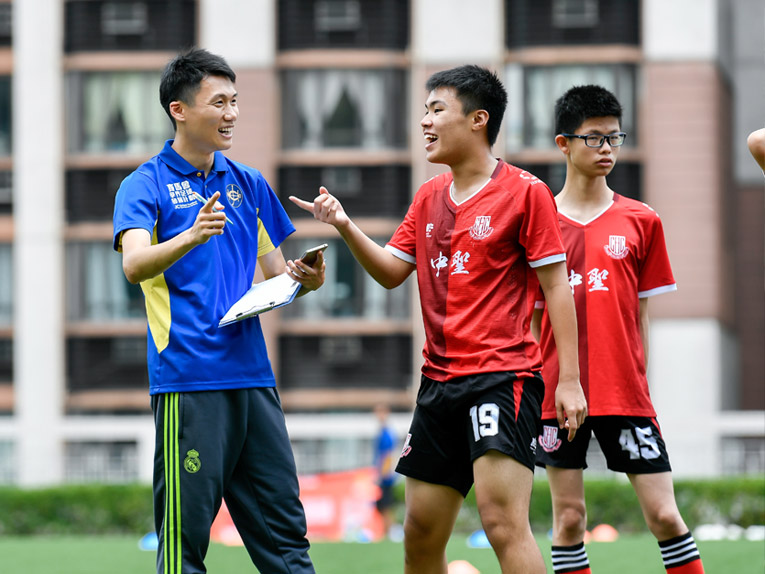 School Coaches
The JC School Football Development Scheme helps develop the potential of Hong Kong youth through football. The partnership with Manchester United enables teachers and coaches to receive professional training and experience MU's world-class training model.
Parents and District Coaches
The HKJC Pass It On - District Elite Coach Education Workshop and Parents Workshop are basic and professional football trainings designed to cater to different levels.